Register
Evening Instruction - 9/9 - 9/20 Baseball/Softball/Tball
ASTROS YOUTH ACADEMY (AYA) EVENING INSTRUCTION AT SYLVESTER TURNER PARK
Fall AYA Free Evening Open Instruction/Training is now open for RSVP for Boys & Girls Ages (7-18)
Please sign up for sessions based on current grade NOT promotional grade.
Evening Instruction will be ongoing until October 11, 2019. A new link will be sent out every 2 weeks to RSVP for evening instruction.
Evening Instruction is designed for basic skill development and enhancement of baseball/softball skills.

Monday & Wednesday - Boys & Girls - 2nd - 5th Grade Sessions - 6:30-8:00PM
Tuesday & Thursday - Boys & Girls - 6th - 12th Grade Session - 6:30-8:30PM
We are now in the process of building our new Bob Watson Education Center here at the Youth Academy which will be complete in January 2020. There is construction fencing around the area where the building will be built including a portion of the parking lot. Parking in the Victory Dr./Office Lot will be very limited throughout the fall season. ALL instruction/training will take place on Field #2. Field #2 access and parking will be accessed from TC Jester Blvd. via the Harris Academy Parking Lot located at 3130 Holder Forest Dr., 77088 as well as street parking. Please see the map below.

Sylvester Turner Park - Evening Instruction Map 2.jpg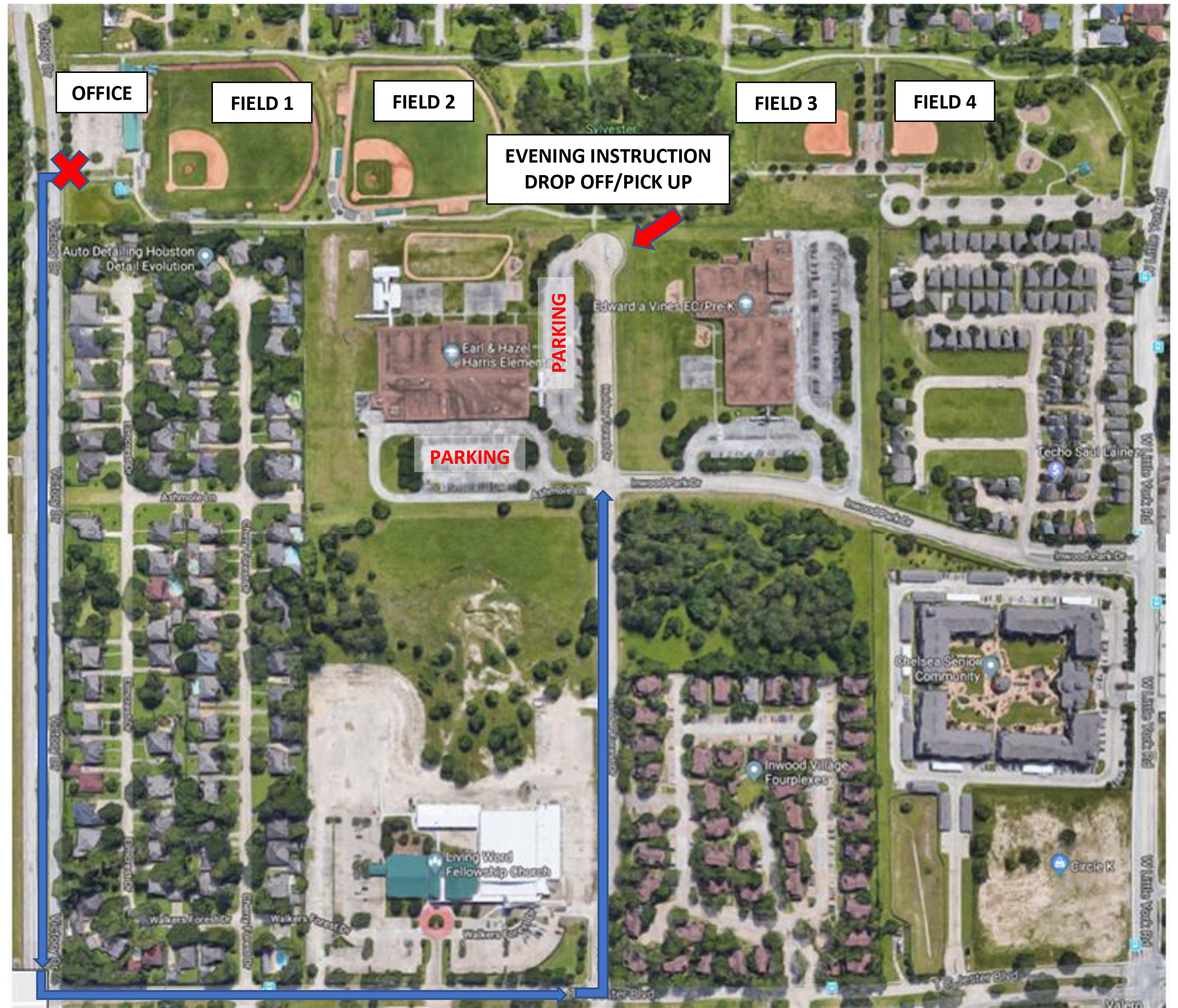 To RSVP please use the following link or visit astrosyouthacademy.com...

http://www.astrosyouthacademy.com/events/1290718-e...

* Remember you must RSVP for instruction in advance. In the event of a cancellation to your reservation date, you may not be added to the list the next day if you have not made a reservation for that following day without contacting the AYA.
* Everyone who sends RSVP will be allowed to participate. There will be no confirmation e-mail sent. There will be no walk-ups allowed without prior contact of AYA staff. Continuous "NO SHOWS" will be removed from the RSVP email distribution. Your child's name MUST be on the sign-in sheet to participate, NO EXCEPTIONS.
* In the event of potentially inclement weather, please be sure to check your e-mail prior to departing to AYA.
* AYA Dress Code consists of baseball pants (any color), baseball belt, baseball socks, cleats, glove and sneaker shoes (for indoor hitting). We will provide your child with an Orange Astros Youth Academy T-shirt which is to be worn as your players uniform EVERYDAY! Please adhere to the dress code as close as possible. Please contact the AYA staff with concerns regarding equipment or uniform.

Houston Astros MLB Youth Academy
@ Sylvester Turner Park
2801 S. Victory Drive
Houston, TX 77088
(o) 281.260.9166 (f) 281.260.9169

E-mail: uya@astros.com

www.astros.com/uya
http://mlb.mlb.com/community/uya.jsp